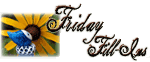 1. I'd really like for the economy to improve right now, but fear it may take a couple more months. I'll keep thinking – This, too, Shall Soon Pass.

2. "Ouch!" is the word you'd most often hear me say if I stubbed my toe, along with lots of hopping around on my other foot and perhaps some cussing under my breath.

3. Possession is 9 /10's of the law, right?

4. My son loves to imitate Captain Jack Sparrow. He dressed up as him once for Halloween.

5. Marshmallows and fire go together like a young cheese and time. (Applying fire to a marshmallow transforms the marshmallow. Over time, a cheese becomes more flavorful and robust.)

6. No matter what the day will bring us, we need to remember that our lives will continue on and on and we should make the most of it.

7. And as for the weekend, tonight I'm looking forward to putting together the new kitchen table, tomorrow my plans include planning / shopping for the Superbowl and Sunday, I want to enjoy good times with our friends during our Superbowl party!